The Character Of Lady Heads :
I Found This Fascination With These Adorable Ladies Who Have Such Character, They were produced in the '50s & '60s.
Some Have Names Or Brands Such As Rubens, Enesco, Inarco & Napcoware.
There Are Some With No Names Or Markings & Were Made In Japan.
All Of These Ladies Have Sweet Faces & Personality.
So Collection Bagan.
Some Ladies Need A Bit Refurbishing So The Makeovers They Shall Have:
Lucy Needed Some New Color Now Her Job Is On My Desk Holding My Pens
A True Helper
My Aqua Lady Holds A Fan So Pretty.
She Has Has A Makeover She Had A Very Hard Time Her Makeup Rubbed Off & A Few Cracks & Faded Hair, From The Beauty Chair She Is Beautiful & Pretty Now
Makeup Ladies Hold The Brushes:
This Lady Needed A New HairColor & A Fresh Makeup Now She Is Bright & Beautiful!
The Dresser Ladies Hold The Lipsticks
Thes Ladies Have Their Purpose
They Charm Any Dresser Or Table.
Some Need Fixing Others Are Beautiful On Their Own
Each One With Charming Abilities They Are A-Class Act
Precious Ladies That Gives Grace Near My Side Bed Tables.
Unique Beauty & Charm That Brings Sunshine To My Day.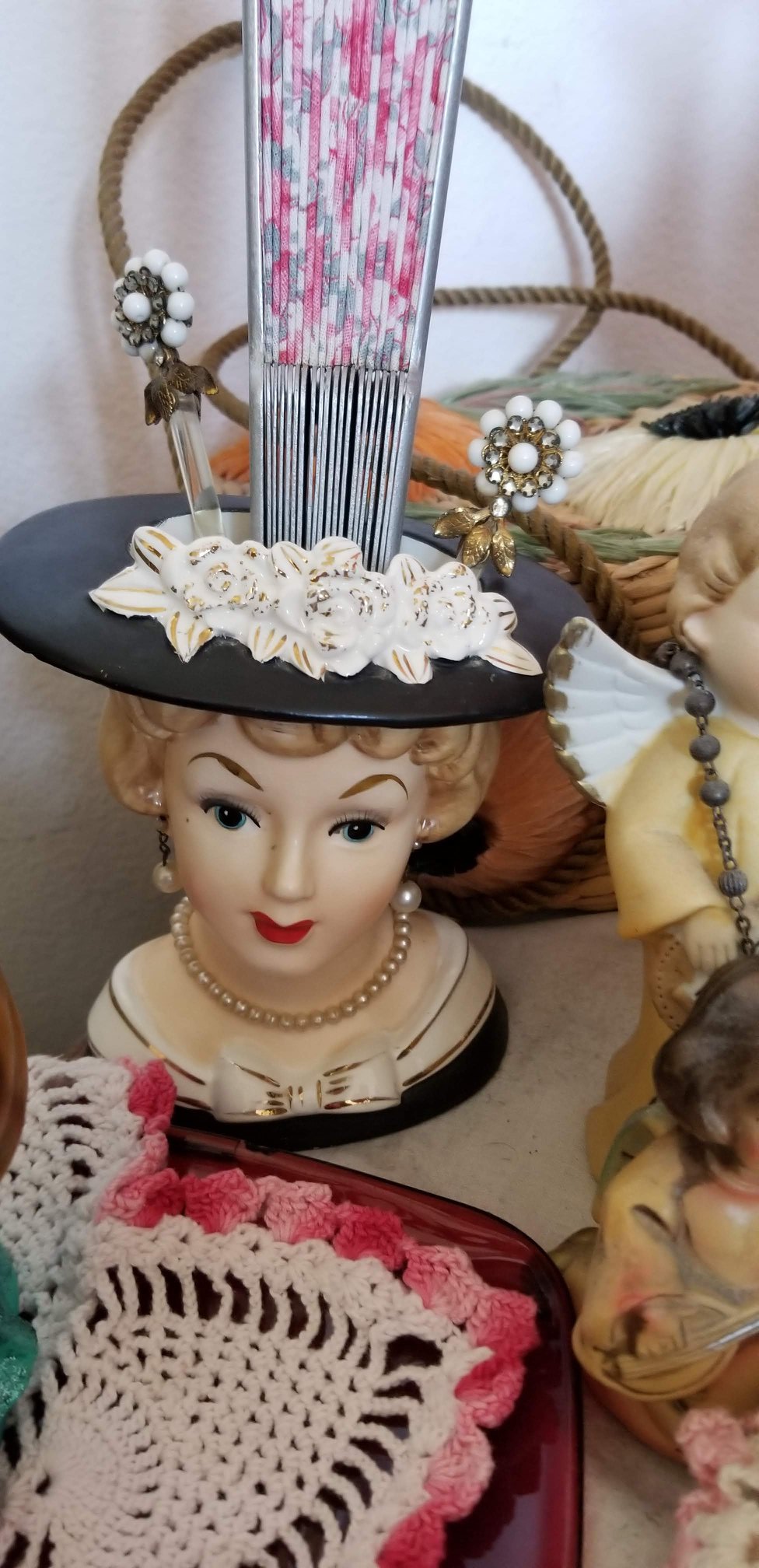 These Ladies I Have In Pink & Green My Favorite Colors That Hold My Every Day Make Up Essential Graceful Faces I Just Love These Sweet Ladies

These Ladies Fill My Heart With Joy Each Time I Work With One They Give Me Such A Warm Feeling In My Heart.
They Can Surely Grace Your Home Where Ever You Place Them They Can Make You Smile Even On A Bad Day They Will Bring You Cheer!
My Ladies From My Home For You To See & Enjoy & Know.
Have A Lovely Day
When You Need Some Cheer Come Visit Ruby's Lady Heads Or Perhaps You Will Find Some Of Your Own.
They Will Give You
Grace, Love & Cheer
A True Joy In Your Heart